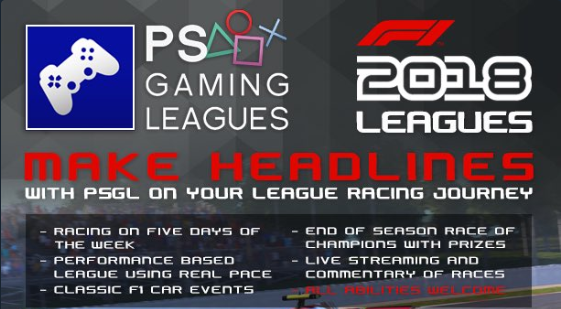 Introduction

Welcome to the 22nd season of PSGL's Formula One leagues. After another successful season on F1 2018 - we move onto our second season on Codemasters' latest edition.




PSGL is all about the community, it always has been. It's about making YOU the driver and gamer welcome, happy and looking forward to racing on a Monday, Tuesday, Thursday, Saturday or Sunday evening. The site has continued to build a reputation for being one of the best communities for league racing - whether you use assists or not, there is a place for you in our leagues. Many of the drivers in our leagues have raced with us for multiple seasons, many back to the first Codemasters F1 release. We feel this is a testament to the drivers we have and the relationships that have been built.

And with 11 years hosting leagues on PlayStation, community is our key ethos. So join us and enjoy your racing and gaming with like minded people.




Key Dates

December 10 - December 23 (Sign-up thread remains open)

December 24 (Placements are finalised by league directors)

Januart 8 18 (Formula Performance starts the PSGL season followed by F6, F5, F2/3/4 and F1)
Season scheduled to finish on April 15 with F1/2 tiers)

*Dates subject to change.




Our leagues

F1, F2 - Mondays (8pm UK)

F3 and F4 and F5 - Sundays (8pm UK)

F6 - Saturdays (8pm UK)

F7- Thursdays (8pm UK)

FP (Realistic Performance) - Tuesdays (8pm UK)




Sign-up process

ALL NEW drivers wishing to take part in PSGL's F1 2018 leagues are required to sign-up using this thread:

New drivers joining PSGL must complete one evaluation race. This is mandatory.




Step 1: Sign-up

What is your PSN?

Days you can race (State as many as the following: Monday, Tuesday, Saturday, Sunday)

Have you raced in PSGL before?

What days are you free to do an evaluation race (These will take place between Tuesday, December 18 and Sunday, December 23):




Step II: Evaluation races (new drivers)
You will be required to complete an evaluation race before being placed.
Evaluation races will take place between Tuesday, December 18 and Sunday, December 23.