Wow, once again no official replica of the original HUD / Camera, no helmet cam, no leg protection, no official sponsoring, no ers simulation, not good enough improvements in audiovisuals..... gonna buy it second hand, not giving my money directly to Codemasters this year.
8 years of development yet they still can't get it right?!
Ridiculous.

*these are just the tip of the iceberg, there's much more in Codies F1 series that still needs improving!

--------------------
Mates i agree it's still "work in progress", but we've seen their "work" for over 8 years and they haven't made any big revolutionary improvements yet unfortunately.

Here are my vague points i posted earlier explained in detail for those who might try to come up with excuses and or want a little bit of context.

--------------------
*Official HUD / Camera:*
Of course it will work, haven't you ever played RFactor 2 / Assetto Corsa with mods to get the official HUD and the official TV Cam?
It looks absolutely stunning and is a big bonus for immersion and realism.
And no, Codemasters is not forced to use their "interpretation" of these two very important factors by proxy, as Liberty Media themselves have repeatedly stated that they want to open up all media, the gaming branche included, so that more people can enjoy and find the beauty of F1, so there's no excuses from anyone to be made, especially as 20 years ago much much smaller gamestudios with very small budgets and terrible hardware were able to replicate the real life feeling in their games, yet Codies can't?
*Helmet Cam:*
No, you have no idea, Project Cars / the newest Dirt games have got the helmet cam in them and it makes the feeling of realism much more valuable, VR isn't necessarily needed to properly use it and the amount of programming to implement it is very easy, yet we never got it in Codies F1 series as of now?
*Leg Protection:*
Is the padding around the drivers legs used for safety in the drivers cockpit, of course this is just a minor problem but a purist wants it all, if NBA 2K / FIFA / NHL / NASCAR / Project Cars can get their presentation right in order to maximize realism with every single little detail, Codemasters can do it as well, can't they?!
It's the little things that make a game more realistic!
*Official Sponsorship:*
Bull - F(iretr)ucking - Sh(i)yt, just take a look at the NASCAR game series and you will know that this apologetic statement of many "fanboys" of Codemasters is nothing more than a petty excuse for Codies "incompetence" to make their iteration of F1 game as realistic as possible, it's very likely more a reason of cutting costs to a minimum rather than actual interests in giving us a realistic representation of F1, which in itself is just pathetic especially as many F1 games of the 90's / early 2000's had everything in them (with low budgets and horrible hardware) making the modern Codies F1 series look very pale in contrast.
*ERS simulation:*
It's a vital part of the modern V6 hybrid engines, and the drivers have to manage it during the whole race as much as possible to have an edge over their competitors, so yes of course it should be implemented in the officially licenced F1 game shouldn't it?!
Anything garage based to make setups more complex is exactly the missing part of the whole Codies F1 series, setups and component management is crucial to make any racing game worthwile, yet here we are going the arcady casual route....
*Improvements in audiovisuals:*
It's the third entry of the "next gen" F1 game series by Codies, yet F1 2017 doesn't have any "huge" improvements in both Audio and Visual fidelity / quality?!
Audio:
should be actual real life onboard dyno recordings to replicate the TV onboard sounds as well as the cockpit sounds respectively, small game studios in the past were able to do that, yet Codies can't?!
--------------------
For more info on audio just make your research on "Raceroom" and get blown away by quality, here's alink to their newest entry: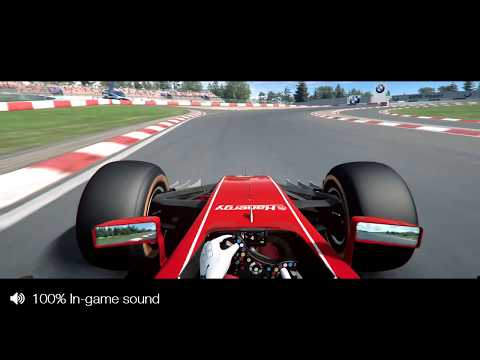 Here's a link to the onboard and offboard real life sound footage as well: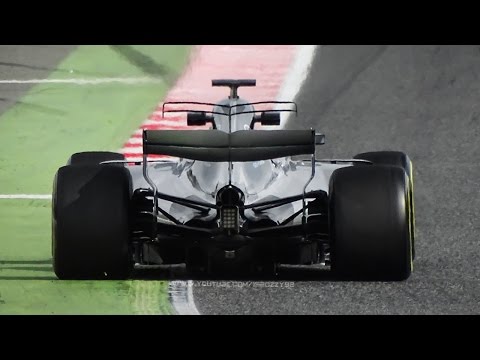 --------------------
Visuals:
should be much more defined and crisp and become more like Project Cars / Forza etc.
Not to mention that the sense of speed should be much higher and shaky / spray in rainy weather conditions should be more dense to drastically decrease visibility / dirt should randomly stick on the cam view if driving behind another car or on grass or gravel / sparks should be more defined and thicker / lighting should be designed as close to real life as possible especially on nightlight tracks etc. the list goes on....

--------------------

I'm not even going to start talking about the physics / handling / career mode / time trial / multiplayer etc., i don't want to write a novel!
--------------------
My critique is very simple, this is a *_"officially licenced F1 product"_* by Codemasters, therefore everything seen in real life should be implemented as close as possible as a default, but over 8 years they haven't been able to do it once so far???
Absolutely ridiculous.
--------------------
I want this game to be good or rather to be the best F1 simcade ever made, as i am a massive F1 / Motorsports / Codemasters fanboy, but this repetitive annual releasing of uncreative recycled games is just way too "anti-consumer" to the point that people need to speak with their wallets instead of enabling these cancerous practices done by many big video game companies these days!!!
It's time to stop.

--------------------

*Gamemodes still need to be presented and confirmed by Codemasters, so we can't form any opinion on those as of now, but from what we can see it seems like those will be simply past gamemodes slightly improved and modified once again, just the way Codies has handled their games since F1 2010 came out, lazy.

--------------------

What are your opinions on Codemasters F1 series? Yay or Nay???