Welcome to the Codemasters Forums! Be sure to check the
FAQ
and
Forum Rules
before you get started.
Will F1 2017 Ai be improved?!?
- I'm not trying to sound like some racing god here -
But for some tracks on f1 2016 the Ai are rediculously slow. I'm not the best driver on this game, but even with almost no practice with my new wheel on f1 games the ultimate Ai aren't much of a challenge on some tracks. (Bahrain they're slow as a tractor etc) some tracks they're ok like Australia and Spain
- here's an example where I just jumped on and started a 100% race on top Ai without much practice, or focus, finished 4th with non upgraded Toro Rosso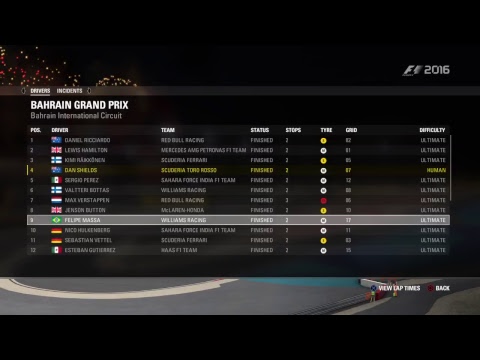 as said I'm not the quickest driver in the world, and my driving was pretty bad, but surely there should be a bit more of a challenge against supposedly "ultimate" AI.
If the Ai aren't competitive it takes away a lot of the fun and motivation to start a career etc.
Maybe improve it to the level where you'd expect in a decent quality league race (or heck, maybe even a difficulty representative of the best drivers in real life *cough* like actual f1 xD )
even if they are just improved by a few tenths per lap at some tracks, it would make the racing a lot more entertaining.
not that I expect a response from anyone making this game, because up to this point we still aren't being given any substantial information about the game xD