Turn your Android Tablet/Phone into a fully customizable dashboard display for your favourite racing sims.
Single client for all supported games. Server automatically detects games and reads data with minimal configuration required.
Powerful editor allows you to modify built in dashboards or build one from the ground up.
Try the time unlimited demo version that reads RPM, Speed and Gear.
Full data unlocks can be purchased for each game via the in app store.
Note the supported widgets vary depending on data provided by each game.
Currently supported games (PC Only):
-Assetto Corsa
-Rfactor 1 & 2, Game Stock Car Extreme, Automobilista, ARCA Sim Racing X - ASRX, ACTC – Simulador Turismo De Carreter
-GTR2, GT Legends, Race07, RaceRoom Racing Experience
-Project CARS
-Codemasters F1 2012, F1 2013, F1 2014, F1 2015, F1 2016, F1 2017 Dirt Rally, Dirt 4
-Live For Speed
-BeamNG
-iRacing (Development temporarily on hold. Currently available as free Alpha)
New dashboards, widgets, and data readers coming in the future.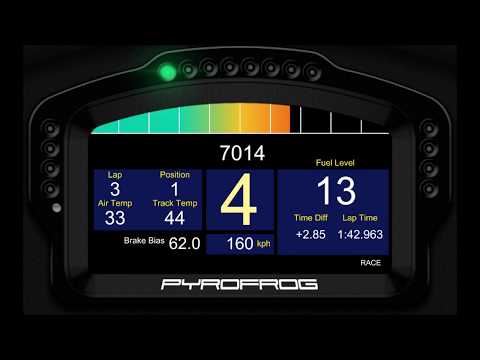 https://www.youtube.com/watch?v=a2BYEJpccSI
Available at the GooglePlay store:
https://play.google.com/store/apps/details?id=com.PyrofrogStudios.DashPanel
Download server application at:
http://www.pyrofrogstudios.com/