Hey all,
Chicane Online Racing is an online F1 league for PC that was created just under a year ago. We are into our third season having just completed the Spanish Grand Prix last night.
We have two splits, being "F1" and "F2" - each league running different assist restrictions and we are looking for drivers for our F2 split.
Before applying you must be able to do the following;
Join the discord as all announcements and updates are posted there.
Attend at least 70% of races without fail at 7PM UK Time every Sunday according to the timetable (see below).
Confirm your attendance for following races on the discord.
Drive cleanly and fairly.
Record your game play in order to report incidents that MAY occur during a race.
We race each track of the calendar in the same order as the real life grand Prix.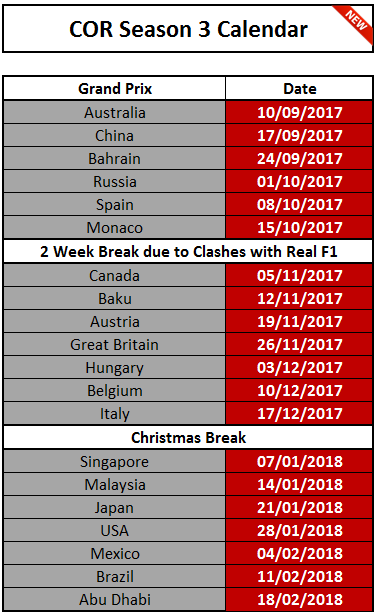 After each race the standings for the league are updated and posted on the discord, for example, these are the latest standings.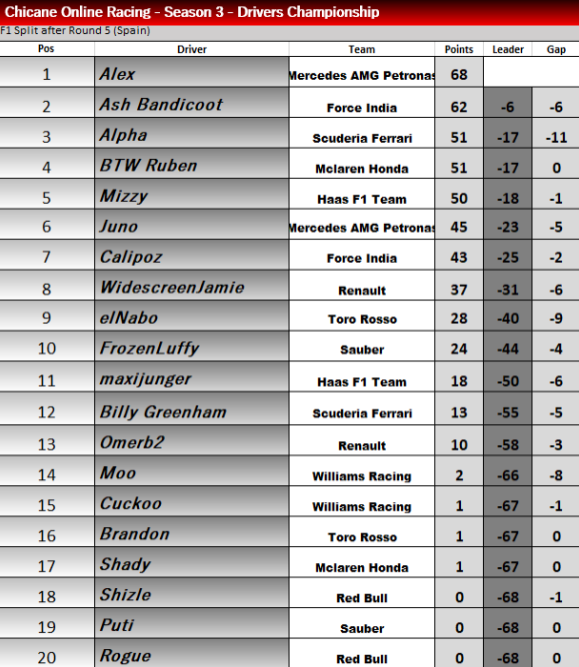 This is for the F1 split which is full, the seats that are available are in the F2 league.
There are currently 6 seats available therefore team selection is obviously limited.
The assists for the F2 split are as follows;

Race settings;
Short Qualifying
50% Race
Equal Cars
Strict Corner Cutting
Reduced Vehicle Damage
If you are interested, please add me on steam;
http://steamcommunity.com/id/bezah/
Cheers,
Alex